OBS! Detta evenemang har redan ägt rum.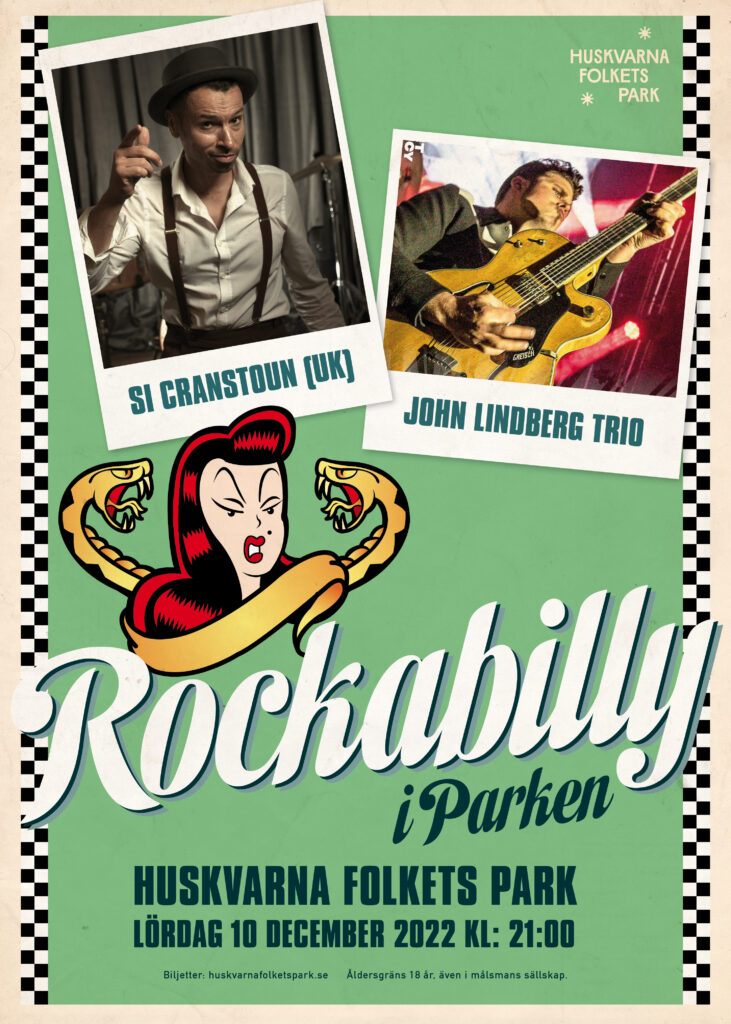 Välkommen till Huskvarna Folkets Park 10 december
♥  Tider
20:30 – Entré öppnar
21:15 – Si Cranstoun
23:15 – JLT
Vi stänger lokalen 01:00
Rockabilly i Parken är på Parketten, där vi också skannar biljetterna.
OBS att 18+ gäller, även i målsmans sällskap.
♥ Mat och dryck 
Restaurang Stockmakaren säljer öl, cider & vin, fika, korv m bröd och alkoholfria alternativ.
♥ Ta inte med
Paraplyer, stora väskor, djur, egen mat eller dryck, flaskor, professionella kameror och ljudinspelningsutrustning.
♥ Garderob och WC
Finns en trappa ner
♥ Biljetten
Glöm inte att ha din biljett redo! Det går bra att visa biljetten i mobilen.
Tickster, som säljer våra biljetter, hjälper dig gärna om du inte hittar ditt mail med biljetten, klicka här
♥ Buss & Tåg
Huskvarna tågstation samt busshållplatserna för linje 1 och 2 stannar på gångavstånd från Folkets Park. Kolla buss och tågtider: www.jlt.se. Närmaste hållplatser är Huskvarna Sandagymnasiet, Huskvarna Station och Huskvarna Kungsporten.
♥ Parkering
Det finns ca 600 fria parkeringsplatser runt om Folkets Park.
Grymt välkommen!
Vill du boka ett paket med biljett och boende på John Bauer hotell – läs mer här!
SI CRANSTOUN
S I C R A N S T O U N is a fabulous throwback to the old swing blues shouters of the 1940s and 1950s.
Si began his singing career as a successful classic soul club singer in the late 1990s around London where he enjoyed residencies with his band at the
famous Hammersmith Palais and Clapham Grand.
In the early noughties he founded a busking vocal duo with his brother The
Dualers originally harmonising a mix up of classic soul, ska and rock 'n' roll where Si went on to write, produce, record and release their debut single Kiss On The Lips which reached 21 in the UK national charts in 2004.
The duo continued to pound the pavements in the years that followed selling out London's O2 Indigo with Si's songwriting and vocals remaining a key ingredient on the albums they recorded up until 2011.
In 2012 Si returned back to a solo career having become a prolific bandleader and songwriter on the vintage scene with dance-floor hits Dynamo and Coupe De Ville which still remained favourites on the old wooden floors.
In 2013 Si was signed to Warner Records and championed by DJs Chris
Evans and the late Terry Wogan where he was A listed on Radio 2 and Magic with the self penned hits Dance Forever More and Caught In the Moonlight.
In 2015 Si wrote, produced and released A Christmas Twist which went viral on the net notching up over 12 million views.
In 2017 Si was signed to German label Ruf Records where he toured Europe with the Blues Caravan and released the album Old School featuring more self penned scene hits including Vegas Baby and Old School.
In 2018 Si was back in the spotlight reaching millions when an old 2010 dance clip of him street performing with his brother went viral. The clip, shot by a passer by, captured Si's jovial home recorded version of a 1962 Jamaican Ska tune Don't Stay Out Late. Si added a penny whistle, sped the tune up to a jig and created a dandy street dance.
In 2020 whilst in lockdown Si wrote and recorded an intimate unplugged album on his acoustic guitar Poems Unlocked which was officially released on iTunes and via his online shop early in 2021.
People have compared Si to many old greats like Jackie Wilson and Sam
Cooke but Si remains his own man with his own distinct voice and songwriting close enough to the old pros of the 1950s and 1960s … Enjoy !!
JOHN LINDBERG TRIO
John Lindberg Trio & Rock This Christmas fyller 10 år!
Julskivan som blev en institution åker för första gången på 10 år ut på turné.
Lokalt i Dalarna har JLT:s julshower i flera år varit en dundrande utsåld tradition. För första gången sedan skivan med samma namn släpptes tar bandet det ut på vägarna.  Med sig har de återigen Stefan Nykvist som medverkar på plattan och även känd från bland annat Larz Kristerz på Piano.
Hitmaskinen JLT har plöjt igenom de svenska vägarna i över 20 års tid. Spelat sönder bussar, ljudsystem och gjort tusentals spelningar över hela landet. I ryggen har de hitskivor som klassikerna Brand New Philosophy, Made For Rock 'N' Roll & senaste given Straight From The Heart.
Bandet har valt ut några av sina favoritspelställen och gör nedslag där. De har grävt djupt i både sin egna & andras katalog inför detta – valt ut vänt och vridit både ordinarie JLT: rocklåtar mixat med julen.
Det här kommer bli en riktigt grym kväll!
Rockabilly i Parken
Rockabilly när det är som bäst!
Entrén öppnar 20:30
Konsertstart 21:00
18 år, även i målsmans sällskap