OBS! Detta evenemang har redan ägt rum.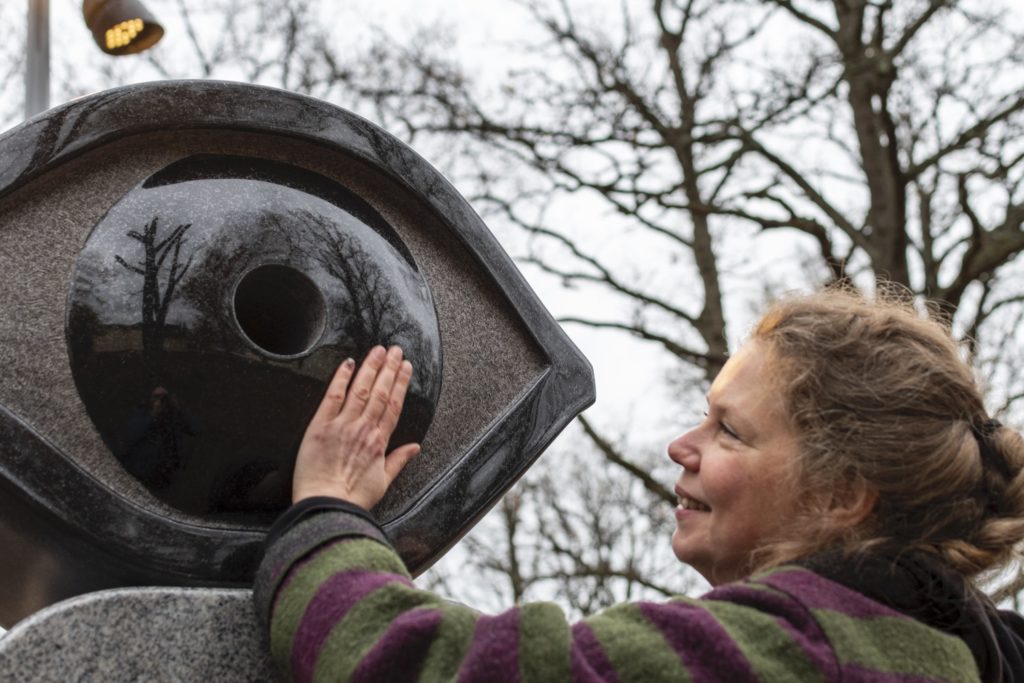 När konstnären Linda Persson blev inbjuden att utveckla ett offentligt konstverk i Huskvarna Folkets Park tog hon fasta på folkparken som en plats för fritid – för gemenskap, musik, dans och skratt. Verket Let's face it är en grupp stenskulpturer i former som skiftar. Beroende på var i parken du står kan ett ansikte framträda och snegla på dig. Kommer du nära blir verket en plats att slå sig ned på. Här kan du dra dig undan för att på håll betrakta folkparkens liv och känna på stensorternas många texturer som glans, friktion och ådringar. Intill Huskvarna Folkets Park finns flera platser avsedda för barn – en lekplats, förskola och skolor. Let's face it skapar en plats för häng, inte minst för unga vuxna.
Konstprojektet är ett samarbete mellan Huskvarna Folkets Park, Riksorganisationen Folkets Hus och Parker och Statens konstråd. Tre nya offentliga konstverk i tre olika folkparker producerades av Statens konstråd under 2020–2022 Verken finns nu i Heby Folkets Park i Uppland, Björneborg Folkets Park i Värmland och Huskvarna Folkets Park i Småland. Curatorer är Joanna Zawieja, Elena Jarl och Annika Enqvist från Statens konstråd.
Let's face it invigs 20 april 
Den 20 april kl. 17.30–18.30 är alla välkomna till Huskvarna Folkets Park. Då invigs den nya permanenta offentliga konstverket med en fest. Vi bjuder på förfriskningar, stenformade tilltugg och besökarna får möjlighet att så fröer som ska skapa ny grönska runt verket. Dessutom får du möta konstnären Linda Persson och undersöka verket på nära håll med alla dina sinnen.
Om konstnären Linda Persson 
Linda Perssons konst utgår från olika läsningar av landskap, kropp och språk. Hennes arbeten tar sig ofta uttryck i skulpturala och filmiska processer. Hon har en kandidat- och mastersexamen i skulptur/ljud från Chelsea College of Art &Design och Winchester School of Art, England samt ett forskningsår vid Mejan Residens, Kungliga Konsthögskolan, Stockholm. Persson deltog i Momentum-biennalen (2017) och inkluderades i boken 100 Sculptors of Tomorrow, Thames & Hudson (2019).
Presskontakt:  
Eva Malm Öhrström, kommunikationschef Statens konstråd, 072-090 82 83
eva.malm.ohrstrom@statenskonstrad.se
Anna Wallgren, kommunikatör, Statens konstråd, 072-050 34 95
Invigning av konstverket "Lets face it"