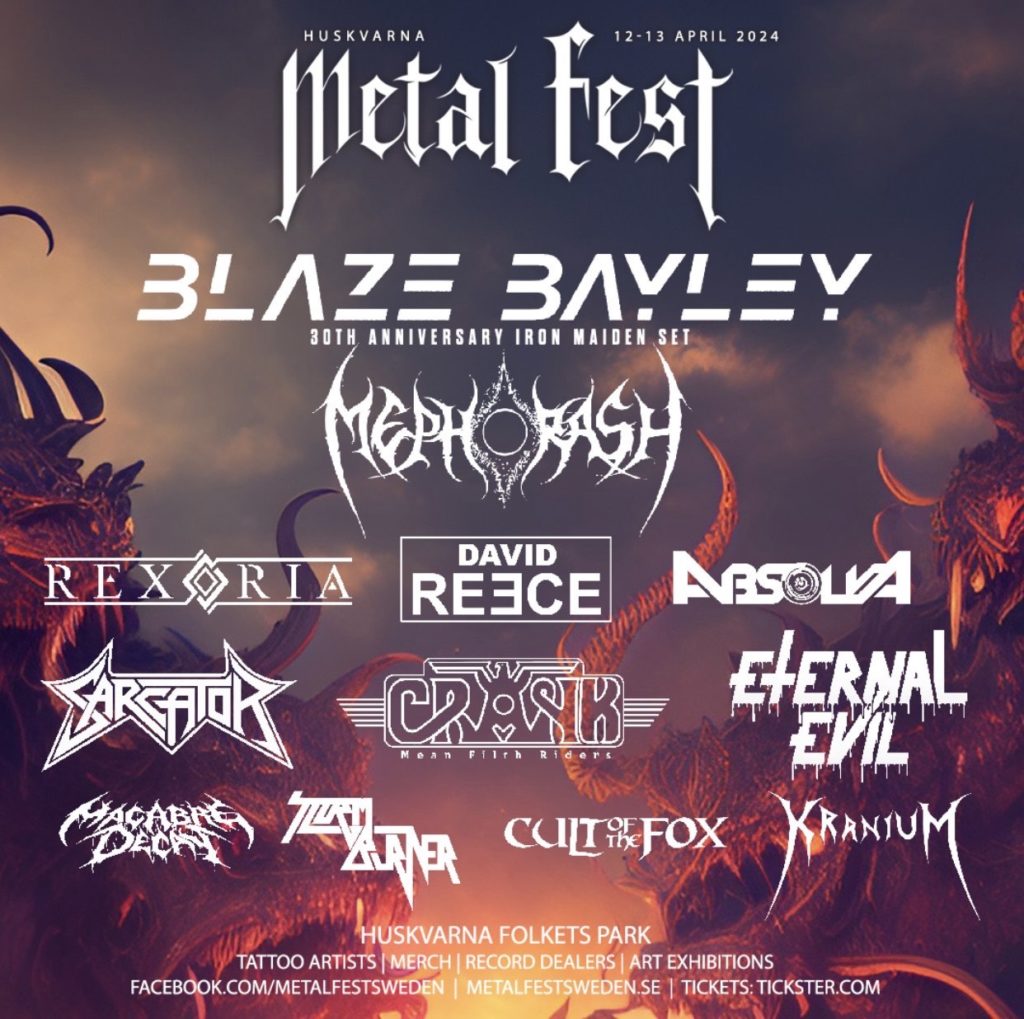 Huskvarna Metal Fest 12-13 april 2024
All info nedanför:
Fredag 12/4:
Kranium
Macabre Decay
Sarcator 
Eternal Evil
Mephorash
Lördag 13/4:
Cult of The Fox
Stormburner 
Rexoria
Crank 
Absolva 
David Reece
Blaze Bayley
Tatuerare, försäljare, utställare, merch, mat & dryck med fullständiga rättigheter kommer finnas på plats under helgen. 
18-års åldersgräns 
I samarbete med Studiefrämjandet, Nemis, Huskvarna Folkets Park, Destination Jkpg
BLAZE BAYLEY
Äntligen är Blaze och hans band tillbaka i Huskvarna!! Detta är en bokning vi planerat under en längre tid och 2024 är det dags. Förutom låtar från hans solokarriär blir det ett special set med Iron Maiden låtar då det är 30 år sedan han gick med i bandet, The X-Factor och Virtual XI ska hyllas som sig bör. 
DAVID REECE
2019 hade vi David och hans band på besök och vi måste nog säga att han har en av hårdrockens mest underskattade röster. Nu är han tillbaka med nytt solomaterial och vi får säkert också höra en och annan låt från hans tid i Accept och från det numera återupplivade bandet Bangalore Choir. En spelning man inte vill missa!!!
ABSOLVA
Bandet bakom Blaze!! Med bröderna Appleton som ihop med Karl Schramm och Martin McKnee utgör Blaze kompband står de även starka på egna ben som Absolva. Med massor av nytt material sedan senast ser vi fram emot att höra och se detta fantastiska band live
CRANK
När Blaze Bayley är på plats så är Crank på plats!! "Det nya bandet med Erik "Tyrant" Gustavsson i spetsen har på kort tid vunnit våra metal hjärtan. Med ett sound som de kallar Biker Rock hör vi skitiga influenser från Saxon, Motörhead, W.A.S.P, Mercyful Fate och givetvis tidiga Iron Maiden…"
SARCATOR 
Ett ungt band som på kort tid tagit rejäla kliv. Med två fullängdare i bagaget har de även hunnit med festivaler som Gefle Metal Festival, Noselake, Nordfest, en uppsjö av egna gig och ihop med tunga namn i genren. Äntligen är det vår tur att välkomna dem på scen där de kommer leverera sin mörka svarta thrash metal. Namnet Sarcator är en fusion av Sarcófago och Kreator vilket förklarar stilen de lirar på ett enkelt sätt.. 
Övriga band under helgen:
ETERNAL EVIL
REXORIA 
MEPHORASH
STORM BURNER
MACABRE DECAY 
KRANIUM 
Huskvarna Metal Fest 12-13 april
Tvådagars metalfest i Folkets Park