OBS! Detta evenemang har redan ägt rum.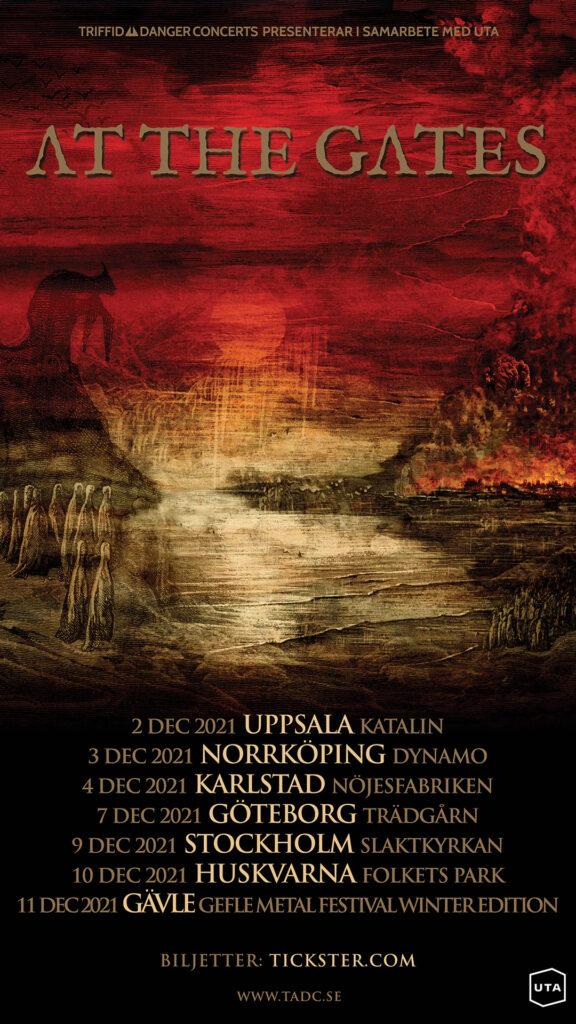 VIKTIG INFO
♥ Vaccinationsbevis
Regeringen har bestämt att alla som besöker evenemang med fler än 100 personer i Sverige måste visa upp giltigt vaccinationsbevis (fullvaccinerad) + legitimation.
Vad behöver du som konsertbesökare tänka på?
• Vaccinationsbevis, antingen i mobilen eller papper.
• Giltig legitimation.
• Kom i god tid eftersom inpasseringen kommer ta längre tid än normalt.
Vi scannar vaccinationsbeviset i entrén i samband med biljettscanningen.
Läs mer om hur du skaffar vaccinationsbevis här:
https://www.ehalsomyndigheten.se/covidbevis/
Vänligen ladda ner ditt vaccinationsbevis Innan du kommer till oss, för att spara tid i entrén.
♥  Tider:
Servering / bar öppnar kl 19:00.
Grand Cadaver kl  20:00.
At the Gates kl 21:15.
♥ Mat och dryck:
Kom och ta en öl, cider eller ett glas vin! Restaurang Stockmakaren serverar lättare mat, korv med bröd & annat smått & gott i Rotundan. Alkoholfria alternativ finns.
OBS! Du får inte ta med egen mat och dryck samt flaskor (glas/plast/burk).
​♥ Garderob och WC: finns en trappa ner i huvudbyggnaden. Observera att Teaterladan är en ouppvärmd lokal och vi rekommenderar därför er att ha jackan på. Garderoben i källaren är inte öppen. Det finns möjlighet att hänga av sig jackan inne i Rotundan, kostnadsfritt, för den som önskar.
♥ Biljetten: Glöm inte att ta med dig biljetten! Det går även bra att visa upp biljetten i din mobil. Observera att bokningsbekräftelsen du fått via e-post inte berättigar inträde till konserten, klicka fram och ha biljetten redo!
Tickster, som säljer våra biljetter, hjälper dig gärna om du inte hittar ditt mail med biljetten, klicka här
Vi scannar av biljetten i entrén.
♥ Buss & Tåg: Huskvarna tågstation ligger ca 50 meter från Folkets Park, det tar ex.vis 6 min fr Jönköpings resecentrum till Huskvarna station, 7 minuter från Tenhult eller 25 min från Nässjö. Buss 1 och 2 stannar på gångavstånd från Folkets Park. Kolla buss och tågtider: www.jlt.se (Närmast Folkets Park: Tåg: Huskvarna Station, buss: Huskvarna Sandagymnasiet, Huskvarna Kungsporten) Ni som har möjlighet att åka buss eller tåg, gör det!
♥ Parkering: ca 700 fria parkeringsplatser runt om hela Folkets Park, det finns även parkeringar vid skolorna mitt emot Folkets Park, som får användas fritt kvällstid.
Det är inte tillåtet att parkera inne i parken.
Grymt välkommen!
At The Gates har varit ett mycket tongivande band för den svenska death metalscenen. Deras sound har kommit att kallas The Gothenburg Sounds, melodisk death metal, ett fack de delar med bland andra In Flames, Dark Tranquility och många andra. Grunden till detta sounds sägs komma från plattan The Red In The Sky Is Our från 1992 med just At The Gates.
At The Gates bildades 1990 och de har en rad album i bagaget och senast kom The Nightmare of Being, som släpptes i somras och som fått mycket bra kritik. Plattan följs upp av en turné med sju stopp, där ett är Huskvarna Folket Park och Teaterladan. Oavsett om du följt bandet sen dag ett eller om du nyfiken på melodisk death metal, är detta är given konsert för dig.
Support under turnén är Grand Cadaver, "a new take on the old school", ett band format veterane från svenska dödsmetallband. Medlemmarna kommer från band som varit med och format den svenska dödsmetallscenen, med frontmannen Michael Stanne, också känd från Dark Tranquility, In Flames och ett tidigt Hammerfall. Även Grand Cadaver har ett aktuellt album med sig.
At The Gates + support: Grand Cadaver
Stilbildande melodisk death metal från Göteborg.
Entrén öppnar 19:00
Konsertstart 20:00
375 kr + serviceavgift 35 kr